Two Soapbox Races Scheduled for 2020
With Montague MA re-starting up their race, Bernardston brings back theirs, too! -- CANCELLED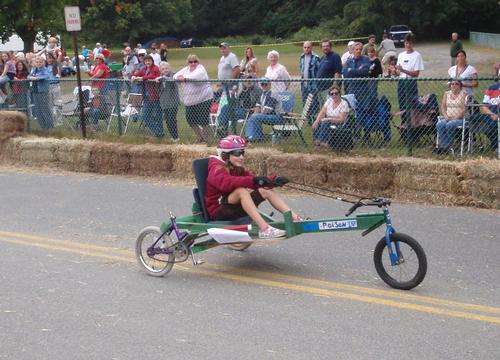 Two Soapbox Derby Races Scheduled for 2020
PLEASE NOTE: all races in 2020 have been cancelled, but will return in 2021.
Montague Revives Their Soapbox Race
After a seven-year hiatus, Montague, MA, is reviving their soapbox race, which ran from 2010 - 2013 in Turners Falls's Unity Park. This time around it will be a town-owned event, run by the Parks & Recreation department, and will be a fundraiser for them.
Jon Dobosz, director of Montague Parks & Recreation, is working with Peter Chilton of Nova Motorcycles, who is acting Race Director. Also participating is Ariel Etheridge from 253 Farmacy as publicity and Mik Muller of Montague WebWorks, as the race consultant who ran the original races.
The date of the race is Saturday, September 19th, again to be held on the 1st Street hill at Unity Park, Turners Falls, MA.
You can find more details on their official website, MontagueSoapboxRaces.com
Bernardston Joins the Circuit
With the announcement of Montague running their race again, the town of Bernardston decided to join in the fun and run their own race. This race will also be a town-owned event, run by Jennifer Stennes of the Recreation Department as a fund raiser to buy a new scoreboard for the gymnasium. Mik Muller of Montague WebWorks will be the race director, with Clayton Cardin of Antonio's Pizza and Grinders as assistant director and sponsorship laison. Jenn will be the town laison.
The date of their race is Sunday, June 28, on West Mountain Road, just off Route 5 & 10. You can find more details on their website, BernardstonSoapboxRaces.com
------
The Northeast Soapbox race is a not-for-profit project of Montague WebWorks to help foster and promote soapbox races in the northeastern states, including Pennsylvania, New Jersey, New York, Connecticut, Massachusetts, Vermont, New Hampshire, and Maine.
Posted: to Northeast Soapbox News on Sun, Feb 9, 2020
Updated: Sun, Apr 19, 2020