Bernardston MA Soapbox Race (cancelled) -- CANCELLED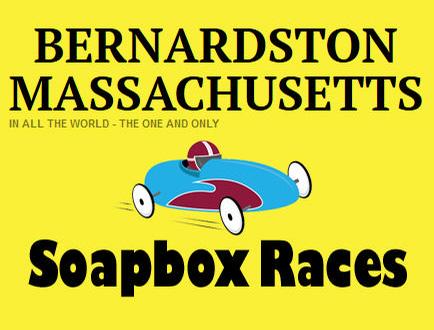 Saturday, September 25, 11:00 am until 4:00 pm
Eden Trail / West Mountain Road, Bernardston, MA
After an nine-year hiatus, Bernardston, MA, will be hosting a Soapbox Race, again!
Race day is Saturday, September 25th, at West Mountain Road in Bernardston, MA. First race is at 12:00 noon.
Run by the Recreation Department, the race will be a fundraiser for a new gymnasium scoreboard. Sponsorship opportunities are available. The intent is for this to be an annual event, with lots of additional events on the day, including a possible antique car show, pancake breakfast, etc.
The course will start on Eden Trail around house #47, merging onto West Mountain Road for the final straight shot to the finish line near Routes 5 & 10. Adult racers will start at the top of the defined track, with expected speeds of aroung 50mph at the turn where it merges with West Mountain Road.
Racers can enter using the online registration form. Entry fee is $25 per racer, or $35 with a commemorative t-shirt. Check this page for Racer Rules and cart specifications.
Racers and the public can sign up for news and updates on their website: BernardstonSoapboxRaces.com
More information to come.
Posted to: Soapbox Race Events